Why not upgrade to this awesome weapon, it feels so real and is much lighter and easier to handle than the stock weapon, be assured if you upgrade your team they won't have played locally with the MP-5 we are the only site in Devon with these guns!. Units also have enhanced features and sound effect as well as longer range fire power and are accurate for 400m, we also offer medic boxes free of charge on upgrade weapons. Adult enhanced settings available standard with upgrade weapon to make game play more challenging if required. 
Add for just £4 per player!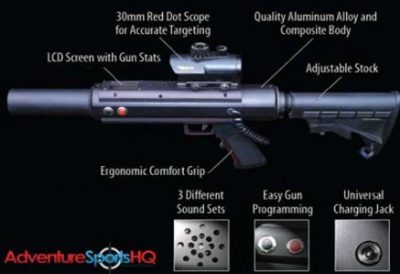 Again the only site in Devon with a domination box. Task is all about holding the ground occupied by the Domination Box. The lights on the box will either show blue or red depending on which team is currently holding the position. The light colours are changed by opposing players making it to the box and firing a shot down the tube and bringing up their own team colour. Once one of the teams have held the position for a pre determined time the Domination Box will flash the winning teams colour. Add for just £2 per player.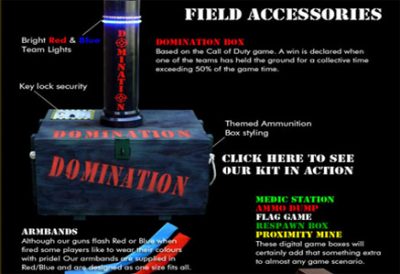 50 Cal Laser Machine Gun! – The only site in Devon to have one of these! All players get to take control and try and shoot out the other team in a much more dramatic way, enhanced loud sound effects. Add for just £1 per player.
Smoke grenades and a great dimension and realistic war feel to your game play! If children are taking part our Marshalls will activate the smoke for you safely. £4.50 each or 3 for £12.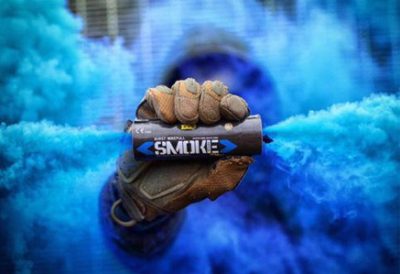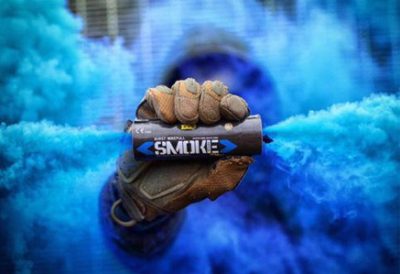 Sausage and chips can be added for £3.50pp or are included for free if booking 10+ people for the 2 or 3 hour session. We also have a picnic area if you wish to bring your own food.